← Back
Slow Travel, Slow Food to Know a Place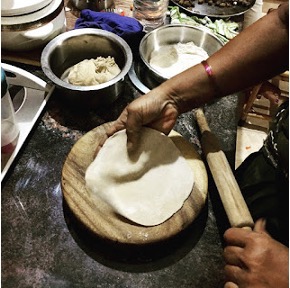 How do you really experience a place beyond what tourists see, even when traveling for a short time?

1. Time: Part of the answer for us really is time—obviously the longer we can dwell in one place, the more we learn and the deeper our understanding of life there.
2. Accommodations: Part of the solution is where we sleep—living like locals, whether in a family stay or an Airbnb home, offers a very different perspective than what we get at hotels or guesthouses.
3. "Forced" interaction: finding a way to integrate regularly with local people—whether through language or other classes, volunteering, school or even simply a household helper—creates consistent opportunities to observe, pantomime, ask questions, laugh and interact, even on days when we might not feel like it. (See side story below!)
4. Food: One of the most essential "ins" to local life is, of course, the food.
Sampling local foods at a restaurant, or better yet someone's home, is definitely a start. But there is something fundamentally different for me about exploring the local market and supermarket to cook for ourselves. As soon as I come "home" with a bag of local ingredients and set about trying to cook a meal, I instantly feel more a part of a place—a real participant, rather than just an observer. Moreover, most of the places where we have slow-traveled aredomains of what at home we would call "slow food." That is: what's on offer is fresh fruits and veggies, staples like dry beans and rice, and very little in the category of convenience foods.
I try to stick primarily with truly local ingredients and to fashion them into my version of local dishes, whenever possible, with the philosophy that there is a reason people cook what they do in each locale. When we had a kitchen in Central America, I soaked beans every night to have them ready for the next day's gallo pinto; in the Andes, I boiled onions, carrots, garlic and herbs every day for soup base; and everywhere we go, we spend hours hauling home, meticulously washing, peeling and chopping many kilos of vegetables and fruit.
South Indian cuisine was a prime motivator in our choice to live in the region for five months. Eirik and I are both longstanding dosa and rasam enthusiasts who love high spice. And as a lifelong vegetarian (Eirik) and an exclusively vegetarian cook (me), we were interested too to live in a place where vegetarianism flourished. Although I knew that we would be spoiled for choice in vegetarian dishes here, and I longed to expand my repertoire of Indian cooking, the overwhelmingly mainstream vegetarianism in Mysore was striking to me. All the restaurants display signs indicating whether they are "Pure Veg," "Non-Veg," or "Veg and Non-Veg." The mere suspicion that someone might eat "non-veg" seems to carry a whiff of stigma, the few "non-veg" people I've met seem sheepish, and you regularly hear mind-bending phrases like, "this is not non-veg" (meaning that there is no meat in it).
The standard housing rental agreements in Mysore carry strict stipulations that absolutely no meat may be cooked or even consumed in the home. Even eggs raise questioning eyebrows, and one friend told me that some children would not recognize an egg, since many have never seen one. (The debate about whether or not eggs are considered vegetarian is one I repeatedly raised in friendly conversation as I gathered disparate opinions and explanations, including some local friends who eschewed free-range in favor of "factory" eggs, since they are guaranteed not to be fertilized.) Vegetarianism in Southern India seemed to me what wine is to France and what water probably is to frogs—an expected way of life.
Right after finding a place to lay our heads, my next order of business was finding someone to cook for us who would also be willing to teach me to cook. Our amazing landlords the Krishnas came through on this front, hooking us up with a warm and friendly cook, Kalpana, who was happy to have an audience, loved to "teach" us the local Kannadalanguage, could bear good humoredly with my pigeon Kannada and pantomime, and would on occasion even stand by patiently for a minute or two, letting me make a mess of the chapati rolling. 
While I did not exactly master anything,I learned all kinds of things: how to use a pressure cooker (sheer magic!); the contents of divine coconut chutney (if I could just get the coconuts open and become more efficient at the perilous fruit prying, I'd be golden); all manner of dahl (lentil soup that accompanies most meals) and subji (dry vegetable curry); dosa and idli batter from scratch (soak special rice and white lentils overnight, then blend); and the beauty of poha, a pounded flat, basically instant rice. Kalpana was initially supposed to come to our house thrice weekly, leaving me every other day to try my hand at things. But she quickly insisted on altering the schedule to come six days a week, taking pity as she did on my half-witted attempts to feed so many mouths from scratch at least three times a day.
The kids definitely got an education via the food as well. They dutifully carried their steel tiffins of things like potato subji, raw carrot and cucumber sticks, parotha (grilled savory bread) and an orange, off to school (yes, made by yours truly every day starting at about 7:30 am, which gave me close to two hours in case things didn't go smoothly). When I resorted to throwing some noodles and tomato sauce in their tiffins one day, Smiley came home informing me in a serious tone that "pasta isn't Indian," and he did not want that anymore. Sashay immediately enjoyed spicier dishes, while Big Eyes and Smiley remained dubious and would mischievously hide the chilis from Kalpana.
One day I put a little spice packet in each of their lunches, since Big Eyes had told me that his friends often brought spices for dipping their veggies. Little spice packets came with some whole grain noodles that we regularly bought at the health food store, and since we did different things with the noodles, the spice packets were piling up in the cupboard. The spices were a tasty mix of red chili, turmeric, coriander, salt and asoephetida (a sulfery substance that Big Eyes alternately enjoyed and ridiculed as only a 10-year-old boy can do). Well, neither Big Eyes nor Sashay got a chance to eat their lunches that day, because practically the whole school mobbed them, demanding spices. Big Eyes made the kids line up for a turn at a sprinkle, which apparently dozens happily did!
Then there was the day that one kid overheard Big Eyes saying something about beef, and incredulously asked if it could be true that Americans eat cows. "What does it taste like? Is it sweet? Is it chewy?" he wanted to know. Several boys joined in disbelief that anyone actually ate cow. And thereafter, Big Eyes—the mortadella-swooning, chicken tikka masala-loving omnivore I used to know—began vehemently insisting that he would remain vegetarian for life, even after we leave India.
I mentioned earlier the value of forced interaction, and one anecdote with our cook demonstrates this regular phenomenon. One late evening, when I was wiped out, already in my PJs and trying to get the kids' teeth brushed forbedtime, Kalpana's charming 12-year-old granddaughter Sneha arrived unexpectedly at our house for a visit, along with Kalpana who had generously returned to clean up our dinner dishes. Was it a good time? No. But like most children in Mysuru, Sneha attended school all day and study programs all evening and weekend, so she only had off-hours for social visits. 
I groaned to myself and thought: I. Just. Can't. Tonight. Sneha wanted to show us a book. She opened it and began to sing a Kannada song. It was one of the more enchanting songs I have ever heard, and it turned out to be about loving life and the Earth and choosing the right path. It melted my heart—this was precisely what we were here for! It was a long song, and I asked her to sing it again. Smiley drifted contentedly off to sleep, and Sashay sat entranced. I ended up unquestionably glad and grateful that our friend had come by at an inconvenient time to gift us this special, slow travel experience.