Cuban Splendor and Perseverance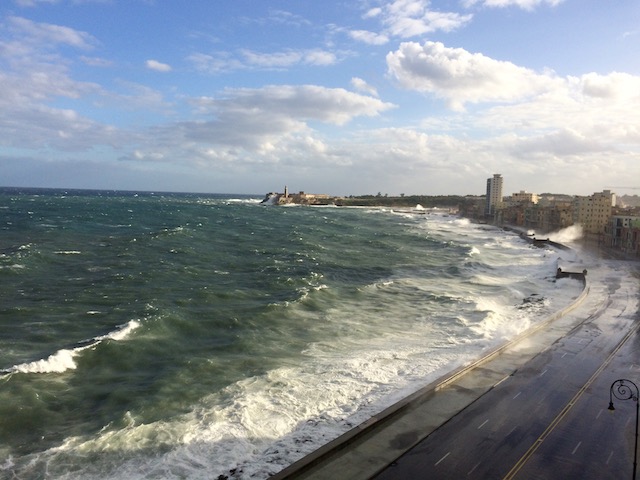 Before our visit, my remedial knowledge of Cuba could be summed up about like this: tropical island, Spanish colony, Bay of Pigs, socialism, African-tinged music, beautiful buildings, old cars, sugar cane, black beans, gangsters, glamour and poverty. I pictured a place that had been closed off to the world and paused in time, circa the 1950's but with much older and more graceful architecture. We visited because Cuba has always sounded mysteriously divine, and because I had a touch of microfinance work there proposed by my consulting firm, and because the current thawing of US relations presented the possibility that something special may be lost (or in any case dramatically changed) in short order… and ultimately just because we could.
We arrived on the heels of six months in Central America – seemingly similar tropical, Spanish-speaking former colonies with tumultuous histories. During our extended stays in Costa Rica and Nicaragua, we had boned up on Spanish, drunk in the tropics, admired crumbling colonial buildings, observed and grappled with poverty, discussed colonization in its various forms, and become accustomed to a slower pace of life. On the eve of our departure for Havana, my Costa Rica-based friend Michael stopped by for a visit and shared some pointers for Cuba. "It feels very different, even coming from Latin America," he mentioned. Boy, was he right. I feel like everything I thought I knew about Cuba was both right and completely wrong.
We arrived just after dark, were found by our prearranged driver, friendly Roberto, and sped through the streets to Central Havana toward our reserved "casa particular"—a rented room in a Cuban home, which is the main way tourists are accommodated in Cuba. People were out and about on the sidewalks, hanging out with friends in open doorways, or lining up at the windows of food vendors. There was no traffic, other than the foot traffic which progressed exactly as if it weren't pitch dark. Roberto stopped and squinted at a house number, then looked at his scrap of paper. We got out and stared up at a tall, dilapidated apartment building surrounded by buildings in truly various states of decay, from a few kind of like ours, down to piles of rubble with trees growing up through decrepit second or third floors. (I later resolved that the best way to tell if a building is habitable is simply to look for fluttering laundry among the ruins, and it was often there.)
We lugged our baggage into the building's (permanently open) entryway and were faced with a few feral cats and an old elevator that looked in questionable order. The kids and I opted for the very narrow, dark, steep stairs, while Eirik and Roberto took the luggage up in the elevator. We beat them to the third floor, passing people's open apartment doors as we went. The casa particular we thought was ours had no space, although they were willing to try, but we were soon shepherded up to another casa on the sixth floor.
We were ushered into an incongruously pristine, floor-through apartment with elegant colonial décor, and led (wheeling all our suitcases across the shiny marble floors) through the entire casa, to a wall of windowed wooden colonial doors that opened onto a balcony overlooking the Malecon.
The view whisked away what little breath remained after our climb to the sixth floor–both because the scene of furious waves crashing up against a curve of avenue where classic American cars and battered Eastern block Ladas crawled was stunning and somehow unexpected, and because I guess tall buildings in Cuba have no particular rules regarding the height or steadfastness of guardrails on open-air balconies. I did not allow daredevil Smiley to see what was beyond those doors for two days. Eventually we were led back to the other side and let into two rooms, each with a similar open-air balcony providing perilous but stunning views of the city and its rooftops.
We called Centro Habana home for four days. One of three main Havana neighborhoods—straddling the highly historic and touristic Habana Vieja on one side and the leafy, embassy-strewn, Miami-esque avenues of the former US Mafia hub, Vedado, on the other—Centro Habana was described in our guidebook as feeling like a Film Noir movie set by night. Famished and exhausted after our journey from Costa Rica, and encouraged by Cuba's low crime rate and proud lack of fire arms, we ventured out into the night to see what we could find.
Thus began our experience with Cuba's delightful surprises. On our way back down the six flights of stairs, in a dim and dingy hallway, Sashay and I (starving and in a bit of a culture shock daze) almost bumped into a smiling chef in full regalia—checkered chef's pants and tall white hat—delivering a plastic bag of food to a modest-looking apartment. Out on the street, we stopped our kids from scrambling with glee toward what we thought was a whimsical rust sculpture in a rough empty lot; the next day, we discovered they were right: it was a lonesome, artful playground slide. Another day, a grey moustached man wearing flippers stopped us along the Malecon, asked if I could understand German and requested me to translate a flirty conversation between him and a Bulgarian woman of a certain age. In the midst of the funny process (Spanish-to-English and German-to-Spanish sweet nothings), the kids asked what he had in the wet sock in his hand. He casually dumped out a pile of baby octopi squirming with old coins, a colonial era musket bullet and other sparkling treasures. I kid you not.
Such random amusements kept us entertained against the backdrop of jawdroppingly beautiful architecture. To start with, I am a sucker for grand scale, age-tarnished colonial buildings graced by palm trees. New Orleans in Louisiana, Dakar in Senegal and Granada and Leon in Nicaragua all thrill me. But Havana is a Whole. Other. Level. Building after building after building is dripping with unique ornament and charm. From elegant facades and lacy cornices to stained glass awnings and geometric tile work, the sugar-funded architecture of Havana conjures an unending exhibition of rococo wedding cake confections.
Cuba's fascinating little vignettes—young guys playing a game of chess on the steps of a closed toy store at night; a little old lady out for a stroll with her fully clothed cat in a baby stroller; people's systematic daily moving around of their birdcages from home, to a park, to the shady wall of a beautiful building; a helper on the sidewalk sending a basket of goods via pulley up to an elderly person on the third floor—played out with a soundtrack that made my heart sing. You already know the music. What struck me most was the precise, hypnotic grace with which many percussionists played maracas and other shaken instruments; and the mournful soar of the clarinet played by one young woman in a courtyard we could see from a neighboring museum we were visiting. I loved the spontaneity of the music: a huddle of young men clapping and dancing together on a dark sidewalk; a delectable jazz set emanating from a "night club" in suburban Vedado early on a Thursday morning; stepping into and peering courageously down the hall of a stranger's apartment, hand-in-hand with Sashay, in vane hopes of spying the source of some obviously live bossa nova music in our building.
While trying to make sense of Havana's architectural excesses in contrast with, say, another natural resource-rich Spanish colony like Costa Rica, we also marveled at the Cuban whiplash that is Socialist deprivation. I didn't get to gather as much information as I would have liked about the state-run restaurants (elegant looking and mostly empty), grocery stores (very thinly stocked on everything except alcohol) and government bodegas with posted rations. On the other hand, we got a lot more experience than we cared to in grappling with the state-controlled communications system—trying our hand at mostly futile internet connections along with the masses that huddle hopefully in the flaky wifi paths outside five-star hotels, clutching password scratch cards like Gollum's ring. But we did thoroughly enjoy testing out the famous government-run Coppelia ice cream parlor in Vedado.
Coppelia is housed in an institutional indoor/outdoor complex occupying an entire city block of Vedado. You can line up at a handful of various points around the complex, with each line corresponding to a different serving space inside (do you prefer an outdoor courtyard, stools at a counter, or one of the "salas" upstairs?). Each space has its own ice cream flavors for the day, and the corresponding flavor(s) are posted at the line, ostensibly to provide an opportunity for choice before you wait. We queued up outside the first line we came across, along with kissing couples, senior citizens, mini-skirted after-schoolers, parents with toddlers and cool cats with earphones. After a while, we noticed that a sign at the head of our line read simply: Fresa (Strawberry). After about half an hour, we were admitted by our guard, and proceeded to the indoor line for Sala 5.
At the indoor line, there was a slightly more elaborate sign. It listed several intriguing-sounding proper names, each with a parenthetical note (1 scoop, 2 scoops, 3 scoops, 4 scoops, 5 scoops). And in a column next to that, this sign also read: Fresa. I asked a Cuban woman next to me for more info. She confirmed that the choices were merely the number of scoops (nothing different about the names), and that indeed the choices were: Strawberry. And that the expensive add-on ingredient (tripling the price) was basically flan. "But the ice cream flavors might be totally different when we get there, of course," she added.
Another half hour later, we were directed up a spiral staircase to Sala 5. It was a large linoleum room with windows on one side and about 15 sets of tables with chairs. All of the salas were arranged like spokes around the staircase. A server told us which table to sit at and finished dealing out red plastic bowls of ice cream to other tables, before stopping by to greet us, as well as our fellow wave of customers. Only one flavor today, she said, and it was: Vanilla. Smiley began to cry (had his heart set on strawberry and chocolate, like the title of the classic movie that helped add to Coppelia's fame). I ordered mine with flan. "We don't have any flan," our server said. But then she rushed off to the sala next door and returned, saying she would pull some strings.
The ice cream and flan were predictably unimpressive, but we were in it for the people-watching and institution-viewing anyway. Always on the lookout for learning opps, we decided to regale the kids with the tenets and benefits of socialism, as well as the case-in-point pitfalls. We laughed together at our "communist ice cream," and little Smiley reiterated his emphatic position regarding the communist flavor selection. When our bill arrived, we discovered that the prices were all in the lower of the country's two currencies, and therefore our total amounted to about $1.05. The waitress had to pull more strings so that we could pay in CUCs. We paid up, just as the next round of comrades were being served in Sala 5. And guess what was in their red plastic bowls? Chocolate.
Unfortunately, ice cream was not our only food disappointment in Cuba. Having eaten in "Cuban" restaurants in New York and elsewhere, and I guess I thought I had some idea of Cuban food. But the savory black beans, tender pork sandwiches and queso blanco-dredged corncobs that I'd looked forward to were pretty much nowhere in evidence. I'm not exactly complaining; I enjoyed the best gin and tonic ever, a kick-ass honey-lemon-rum cocktail, and we ate some fine meals (including a pretty good one in one of our casa particulars, which I'd heard might be the secret source for real Cuban food). But after our umpteenth soggy pizza and pasta meal and some cross-referencing with a few fellow travelers, I couldn't help but feel like either there was a whole other Cuban food universe we were missing, or something else was afoot. I suspect that part of the issue is that some entrepreneurs (private eatery owners) are missing the memo that at least some visitors would like to be eating more local cuisine. Note: major (capitalistic) opportunity!
Which brings me to another thing I learned in Cuba. There are a lot of other travelers. For some reason I had overlooked the fact that just because Americans have not been able to visit the island for half a century, it doesn't mean that the Canadians, French, Germans, British, Italians, Dutch, Australians and everyone else have been sitting it out too. On the contrary. Cuba is a hot destination, and the copious tour busses parked in front of buildings you might like to photograph, or the incessant waves of tour groups stampeding down quaint cobblestone streets will immediately slap down any vague fantasy one might have had of discovering buried treasure.
Let me qualify this potential bubble-bursting by admitting that we went to three very popular places (Havana, Cienfuegos and Trinidad) in the near-height of the tourist season, and that Cuba is indeed so layered with culture, beauty and contradiction that there is plenty to be discovered no matter what. The political change that was afoot may also have sparked an increase in travel to Cuba to beat the American rush—who knows. It is hard to compete with the tour groups, though, which book up all the best lodging and reserve dinner at all the most interesting restaurants, many months in advance. Based merely on guide book suggestions and logic about vacationers, next time we will aim for early May (in fact, Big Eyes hopes it will be this coming May already).
The kids did remarkably well on the Cuba trip. I'm not sure if it was our magical nighttime jaunt along the length of the sea-splashed Malecon wall, their frolicking at a fort with real canons, our joy ride to a beautiful beach in a shiny old Chrysler to Beatles and Beach Boys tunes, their daily free-roaming in the town square across from our homey casa particular in Trinidad, or maybe just the je ne sais quoi charm of the place, but Big Eyes, Sashay and Smiley all enjoyed Cuba. We did endure some travel tribulations (like bed bugs that feasted promptly at 2 am nightly at one place we stayed; and a dishonest driver feeding us misinformation about our reserved casa particular in Trinidad and then insisting we stay at another, more distant and dismal one where he got a small commission—we eventually figured it out and cut bait late at night). But the kids took it all in stride, expressed some heartwarming sentiments of solidarity and pride in our family perseverance, and happily made up imaginary games to occupy themselves on our day-long strolls through city streets. We are unanimous in our impatience to return.